With a grandiose diplomatic flourish China brokered a rapprochement between Saudi Arabia and Iran, in the process upending US calculus in the Gulf and beyond.
While the United States has angered its Gulf allies by apparently dithering over morality, curbing arms supplies and chilling relations, Saudi Arabia's King-in-waiting Crown Prince Mohammed bin Salman, known as MBS, has found a kindred spirit in China's leader Xi Jinping.
Both are bold, assertive, willing to take risks and seemingly share unsated ambition.
Friday's announcement that Riyadh and Tehran had renewed diplomatic ties was unexpected, but it shouldn't have been. It is the logical accumulation of America's diplomatic limitations and China's growing quest to shape the world in its orbit.
Beijing's claim that "China pursues no selfish interest whatsoever in the Middle East," rings hollow. It buys more oil from Saudi Arabia than any other country in the world.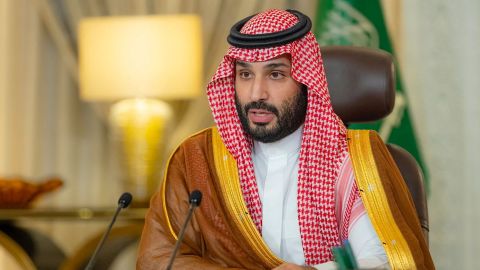 Saudi Crown Prince Mohammed bin Salman pictured in October 2021.
Bandar Algaloud/Courtesy of Saudi Royal Court/Reuters
Xi needs energy to grow China's economy, ensure stability at home and fuel its rise as a global power.
His other main supplier, Russia, is at war, its supplies therefore in question. By de-escalating tensions between Saudi and Iran, Xi is not only shoring up his energy alternatives but, in a climate of growing tension with the US, also heading off potential curbs on his access to Gulf oil.
Xi's motivation appears fueled by wider interests, but even so the US State Department welcomed the surprise move, spokesman Ned Price saying, "we support anything that would serve to deescalate tensions in the region, and potentially help to prevent conflict."
Iran has buy-in because China has economic leverage. In 2021 the pair signed a trade deal reportedly worth up to $400 billion of Chinese investment over 25 years, in exchange for a steady supply of Iranian oil.
Tehran is isolated by international sanctions and Beijing is providing a glimmer of financial relief.
And, in the words of Iran's Supreme leader Ayatollah Ali Khamenei last year, there's also the hope of more to come as he sees geopolitical power shifting east.
"Asia will become the center of knowledge, the center of economics, as well as the center of political power, and the center of military power," Khamenei said.
Saudi has buy-in because war with Iran would wreck its economy and ruin MBS's play for regional dominance. His bold visions for the country's post fossil-fuel future and domestic stability depend on inwardly investing robust oil and gas revenues.
CNN
https://edition.cnn.com/2023/03/15/world/us-saudi-china-relations-intl/index.html